1) Electric Zoo
ONE OF THE WORLD'S LEADING ELECTRONIC MUSIC FESTIVALS CELEBRATES ITS 11 th YEAR AT RANDALL'S ISLAND PARK NYC ON LABOR DAY WEEKEND
AUGUST 30 & 31, SEPTEMBER 1, 2019
WITH DOG BLOOD, ALISON WONDERLAND, FLUX PAVILION, ABOVE & BEYOND, KASKADE, ARMIN VAN BUUREN, DIPLO AND MANY MORE
PLUS STAGES CURATED BY ALL MY FRIENDS, BROWNIES & LEMONADE, GUD VIBRATIONS, SEVEN LIONS PRESENTS OPHELIA AND PRYDA ARENA TICKETS ARE ON SALE NOW AT 
WWW.ELECTRICZOO.COM
.
Made Event, the producers behind Electric Zoo Festival, has released the lineup for ELECTRIC ZOO: EVOLVED. For its 11th edition at Randall's Island Park in NYC taking place over Labor Day Weekend August 30 & 31, September 1 – festival attendees can expect a bigger and better star-studded lineup featuring dance music titans of the likes of Dog Blood (SKRILLEX :: BOYS NOIZE), recent Billboard cover star and DJ/expert producer Alison Wonderland, dubstep mastermind Flux Pavilion, alongside EZoo veterans Kaskade, Armin van Buuren, Diplo and so many more! Festivalgoers will also experience multiple B2B sets such as DJ Diesel and Borgore, NGHTMRE and SLANDER, Cookie Monsta and Funtcase, plus more. With more than 100 acts encompassing a wide array of styles from house and techno to trance, trap and future bass, there's a special something for every electronic dance music lover. ELECTRIC ZOO is also thrilled to announce five major stage hosts for 2019. These include All My Friends, Brownies & Lemonade, Gud Vibrations, Seven Lions Presents Ophelia and Pryda Arena.
2) Portal Burn

When:   July 25-29, 2019
Where:  Hannibal, NY (Upstate New York)
PortalBurn is an event like nothing you have experienced. Each year, we design and set up a temporary community where everyone is a participant. There are no vendors; nothing can be bought or sold. Items are freely gifted. The entire event is run by volunteers. Everyone, from Board Members and Organizers to Leads to Medics and Rangers, is volunteering, because PortalBurn belongs to them, and you…
Here you will find the wild, the wonderful, the magical…a world of unbridled creativity and self-expression through music, art, performances, gatherings, food, drink and participatory events.  Join us in creating this world…
PortalBurn is the Burning Man sanctioned Upstate New York Regional Burn experience dedicated to the principles of inclusion, gifting, decommodification, self-reliance, self-expression, communal effort, civic responsibility, leaving no trace, participation and immediacy.
3) Afropunk Festival

When: August 24 & 25, 2019
Where: Brooklyn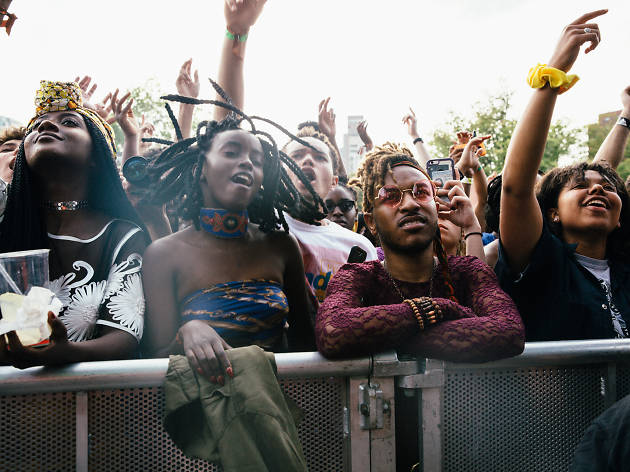 "AFROPUNK is defining culture by the collective creative actions of the individual and the group. It is a safe place, a blank space to freak out in, to construct a new reality, to live your life as you see fit, while making sense of the world around you."
"In their 15 years of existence, Afropunk has managed to curate an environment that can only be described as an ethereal, momentary hideaway for black people from all corners and crevices of the diaspora —and this year was no different. The festival explicitly invites folks to come and be who they are, wear whatever they wear, and dance how they dance. It was a blank space to freak out in—and freak out they did."
http://afropunkfest.com/brooklyn/
4) Borderland Festival
"The Borderland Music + Arts Festival celebrates the rich history and renaissance of the region with a two-day music and cultural festival set in one of the most scenic and storied grounds in all of New York State, Knox Farm State Park."
"The Buffalo Niagara region has an identity all its own—surrounded and influenced by the Great White North, the Great Lakes, and a great industrious spirit. These influences combine to create a unique culture that has built the foundation for our music, our food, our drink and our art. This is the Borderland—a two-day music and cultural festival set in one of the most scenic and storied grounds in all of New York State, Knox Farm State Park."
https://borderlandfestival.com/
5) Summerstage
When:  June – October 2019
Where: Various locations across NYC
"SummerStage is New York's largest free outdoor performing arts festival. SummerStage annually presents approximately 100 performances in 15-18 parks throughout the five boroughs. With performances ranging from American pop, Latin, world music, dance and theater, SummerStage fills a vital niche in New York City's summer arts festival landscape. Since its inception 34 years ago, more than six million people from New York City and around the world have enjoyed SummerStage.
For the 2019 season, we're thrilled to unveil our newly renovated flagship venue in Central Park. Our iconic venue transformed with a new stage, new sound system, increased lighting, upgraded backstage areas, raised seating, and an improved concert-going experience for all guests. What hasn't changed is SummerStage's mission to present iconic and emerging artists from widely diverse genres that reflect the population of our international city."